Gusts hit 50mph in south and 70mph in north, complicating fight as more than 1m remain without power
California battled wildfires fueled by fierce winds across the state, including a new blaze that swept dangerously close to the Ronald Reagan presidential library in the Simi Valley near Los Angeles.
The fire is one of several that firefighters are battling in the north and south. Meanwhile more than a million people across the state remained in darkness amid widespread power shutoffs.
Meteorologists had warned southern California could see extreme winds on Wednesday that would severely complicate the efforts to control several blazes, including a fire near the Getty Museum in Los Angeles that had prompted evacuations on Monday.
Winds gusts topped 50mph (80km/h) in some southern California areas before dawn. The Simi Valley fire spread quickly and prompted the evacuation of the Ronald Reagan presidential library and nearby homes.
Gusty winds fueled several other, smaller new fires on Wednesday, including one north of Malibu, and another in Kern county in the Central Valley.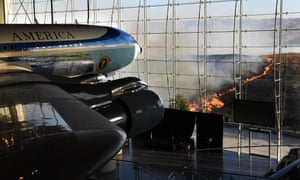 Source: http://www.theguardian.com/us