Picking up right where the hit drama left off, Netflixs follow-up film shows Jesse Pinkmans next move … though its not the thriller you may have hoped for
Jesse Pinkman grafted his way into the pop culture pantheon through a combination of innocence (soon lost), idiocy (largely maintained) and a politically incorrect tendency to append every sentence with the word bitch. Now in El Camino the movie follow-up to hit antihero drama Breaking Bad he gets a chance to wrap up his story. Hes back, but the storys moved on, his catchphrase now notable by its absence.
El Camino begins where Breaking Bad ended. Pinkman (Aaron Paul) has been liberated from the hellish prison in which he had been confined by neo-Nazis, forced to cook industrial-grade crystal meth. The man doing the liberating was Walter White, Pinkmans mentorturnednemesis and chemistry teacherturneddrug kingpin. White is dead now though, killed during the rescue mission. Pinkman meanwhile is speeding away in a muscle car (the 1978 Chevrolet El Camino), heading, creator Vince Gilligan previously claimed, to something better.
Except, it turns out, he isnt. The first scene shows Pinkman putting his foot on the brake, lowering his gaze as the police pass by en route to the crime scene. From there, he goes to the home of his friends Badger and Skinny Pete, where he eats noodles and falls asleep. After a brief reunion in which his friends go above and beyond to help him out dude, youre my hero and shit, says Skinny Pete he drives off again, but only to another block in Albuquerque, his home town, and another moment of tension.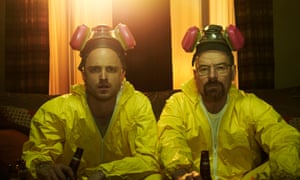 Source: http://www.theguardian.com/us