From an LGBTQ+ romance in Black Mirror to the first woman of colour to win Miss World, the star is breaking down cultural barriers with her roles
The hotel drawing room where Gugu Mbatha-Raw sits is stately but casual. We are on a plump sofa and behind us a man fills the space with a loud video call, unaware that earphones have been invented. He is, obviously, irritating, but Mbatha-Raws only concern is that he will drown out the Dictaphone. She is somewhat stately and casual herself, laughing whenever she says something that she thinks might sound pretentious. Earnestness is spiked with self-awareness. Id never want to assume that I have some greater wisdom, she says with a grin.
There is an alertness about Mbatha-Raw, just as there is on screen: almost all of her characters are on some sort of mission. As the real-life biracial girl born into slavery but raised by the aristocracy in 2013s Belle the actors big-screen breakthrough her combination of innocence and steeliness charmed many. Oprah Winfrey was a huge supporter of the film, while Prince actual Prince performed at an afterparty he arranged for the premiere.
Since Belle, she has done the lot. On stage, she was a bawdy bundle of fun as the titular flower-seller-turned-royal sweetheart Nell Gwynn at Shakespeares Globe in London. On screen, she has done genre drama (The Cloverfield Paradox, Fast Color) and with Joe Swanbergs excellent improvised Netflix series Easy she was understated and heartbreaking as a woman indecisively returning to a broken relationship. Then there is the fantastical tomfoolery: Ava DuVernays A Wrinkle in Time (with Oprah), Beauty and the Beast (she was the feather duster), and the Wachowskis bewildering space opera Jupiter Ascending, in which she played a half-human, half-deer creature called Famulus (its worth Googling for her ears).
She is perhaps best known for San Junipero, widely regarded as the best and most beloved episode of Charlie Brookers Black Mirror. She played Kelly, fighting mortality in the real world while partying it up in a virtual, artificially created alternate reality. Her character was desperately in love with life, and Mbatha-Raws performance too was joy personified. The episode was acclaimed for treating the same-sex relationship at its centre with an optimism and lightness of touch, and Kelly and Yorkie (Mackenzie Davis) swiftly became queer icons. I didnt think about it culturally, says Mbatha-Raw of her initial response to the script. I just thought: Wow, I love this story. I have to do it.
She is, though, thrilled at the impact it has had and loves working on material that breaks down cultural barriers as San Junipero did, as Belle did, as the recent black skinhead drama Farming did. There is also next years Misbehaviour, set around 1970s Miss World competition, in which she plays Jennifer Hosten, the first woman of colour to win the event. That year, womens liberation movement activists stormed the stage on live television. They swung football rattles as the host Bob Hope did his shtick, before hurling rotten fruit, flour and smoke bombs all over the shop.
Its intersectional, says Mbatha-Raw, playfully affecting a faux-American accent. I love it. Miss World in 1970 was ridiculously misogynistic. Its amazing to reflect on how far weve come. But also, with Jennifer Hosten, it challenged perceptions of who is allowed to be a beauty queen. Perceptions of beauty [itself].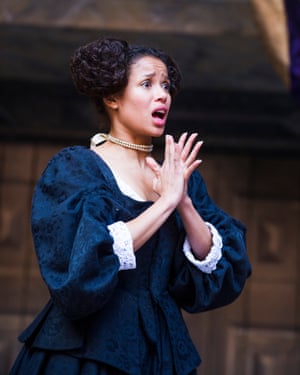 Source: http://www.theguardian.com/us