LeBarn family relatives say nine victims, mainly children, dead in attack on dirt road between Chihuahua and Sonora states
Cartel gunmen in northern Mexico have killed at least six children and three women in an ambush that left six other children wounded and prompted Donald Trump to call for a war against the countrys drug cartels.
Victims and survivors of the attack near the border between the states of Sonora and Chihuahua all belong to a well-known Mormon family that is based in Mexico but has dual US/Mexican citizenship and deep roots on both sides of the frontier.
The massacre prompted three tweets from Trump urging Mexicos president, Andrs Manuel Lpez Obrador, to wage WAR on the drug cartels and wipe them off the face of the earth and offering US help to do this.
Mondays merciless slaughter of children and their mothers is the latest in a recent string of violent episodes which have piled pressure on Lpez Obrador to modify his softly-softly approach to organized crime.
Initial accounts from local authorities and relatives of the victims differed on several key points, but it appears that the three women were travelling in three SUVs with their children when they were attacked on a remote and unpaved mountain road at around 1pm on Monday.
According to relatives, the three vehicles were travelling from the community of La Mora, Sonora toward Pancho Villa, in Chihuahua. They set out together, but one of them later fell behind because of a flat tire.
That car was the first to be found shot up and burnt out with the bodies of one woman later identified as Rhonita LeBarn her twin babies and two other small children dead inside.
The other two vehicles, driven by Dawna and Christina Langford, were found about 18km (11 miles) further along the road at the top of a hill.
According to a statement released by the Sonora attorney generals office, a woman and two children were found dead in one of the cars. The third woman was found dead a few meters from the third vehicle.
Julin LeBarn, a relative of the victims, said that he reached the scene with the security forces hours later, and opened the door of one of the vehicles to find a baby still inside completely unharmed.
In an interview with Aristegui Noticias, he said it appeared most of the rest of the surviving children had walked 15km (9.3 miles) back to La Mora where they alerted the authorities.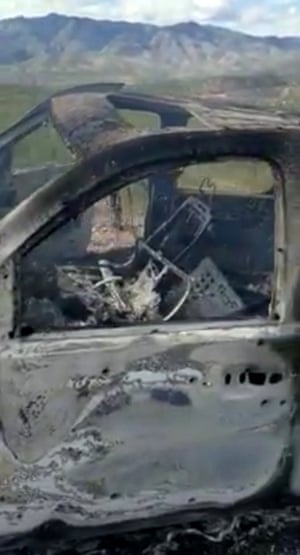 Source: http://www.theguardian.com/us