It is cities, not national governments, that are most aggressively fighting the climate crisis and in 30 years they could look radically different
She has barely ever been in a car, and never eaten meat or flown. Now 31, she lives on the 15th floor of a city centre tower from where she can just see the ocean 500 yards away on one side and the suburbs and informal settlements sprawling as far as the eye can see on the other.
Life is OK in this megacity. She earns the exact median income and is as green as she feels she can be: she has no children yet, her carbon footprint is negligible, and her apartment, built in the early 2000s, has been retrofitted for climate change with deep insulation, its own solar air-con and heating systems.
It has a living wall of plants and a balcony where she grows a few vegetables. Waste is automatically sorted or composted. Outside it may be roasting, with temperatures often higher than 40C. Inside, shes cool.
She loves where she lives, even though the water tastes slightly salty sometimes and there are often electricity outages in the summer months because of the frequent droughts affecting reservoir levels. Her windows catch the breeze, and because the mayor has adapted to climate change by banning cars across the whole city centre and no fossil fuels are burned nearby, theres little air pollution. She feels healthy.
Food is expensive because of the massive floods and droughts that have affected the worlds main food-growing areas, but most of hers is organically grown and is delivered by drone from the nearby 20-storey farmscraper built 10 years ago. Most cities of this size grow as much of their own food as possible these days, as a way to reduce transport emissions.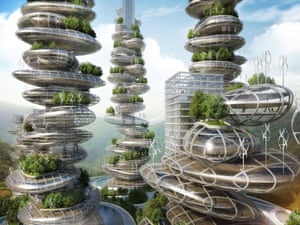 Source: http://www.theguardian.com/us