The presidents efforts to govern in his own self-interest will undermine the worlds faith in our commitments
The Ukraine scandal is not only undermining American democracy its damaging national security. US foreign policy increasingly looks like that of a mafia state, wielded at the behest of, and for the benefit of, one mans personal interests, and for sale to the highest bidders. This is devastating Americas role in the world.
Trump led an effort along with other government officials and the presidents personal lawyer to use the power of the United States to pressure the government of Ukraine to fabricate smears about one of Trumps domestic political opponents. As the White House admitted in a transcript of Trumps 25 July call with the Ukrainian president, Volodymyr Zelenskiy, Trump asked Zelenskiy for a favor to look into the former vice-president Joe Biden and his son and said that the US attorney general, Bill Barr, and Trumps personal lawyer, Rudy Giuliani, would help.
At the same time, Trump withheld military assistance to Ukraine which is fighting a war with Russia on a timeline that makes it clear that it was part of an attempt to use taxpayer dollars as leverage to get Ukraine to do Trumps personal bidding.
This is confirmed by the whistleblower complaint from a member of the US intelligence community, who sums it all up: The President of the United States is using the power of his office to solicit interference from a foreign country in the 2020 US election. The complaint also describes an effort by the White House to hide the presidents conversation with Zelenskiy because officials knew how damning it was. And then, the White House and the Department of Justice intervened to prevent the complaint from making its way to Congress as the law requires.
Many more facts are sure to follow, but the facts we already know are damning: Trump has been using the power of the presidency to extort a foreign government to help his own re-election chances. Trumps administration then tried to cover it up. And when it came out, Trump threatened the whistleblower with retaliation. All of this has fueled an impeachment inquiry.
This kind of behavior, coming from the president of the United States, is shocking. But coming from Trump, it is hardly surprising.
The former FBI director Robert Mueller documented in 448 pages of a Department of Justice report the extent to which Trump and his campaign worked to solicit, receive and coordinate assistance from Russia in the 2016 election, as well as the numerous attempts by Trump to obstruct that investigation.
Trump refused to shed his private business interests before assuming office, meaning that as president he has faced numerous conflicts of interest. His familys financial dealings with countries ranging from China to Saudi Arabia raise suspicion about whose interests Trump is pursuing.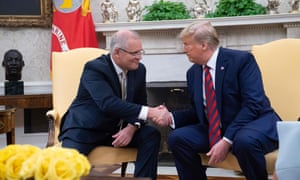 Source: http://www.theguardian.com/us